The rows of tables, the heads of employees behind the monitors, a humming printer. Someone is yawning and goes for another cup of coffee, followed by the rest. Phones are ringing, the office is filled with a multi-colored polyphony, among which a shout periodically breaks out: "Quietly, I'm talking to a client from afar!". This is an ordinary office, which can hardly be called modern.
In such an environment, creative projects are not born, talents do not linger, and representativeness turns into pathos. Business is conducted not within the office walls and not from 9.00 to 18.00 with a break for lunch. Increasingly, the question arises of how to make the business more flexible, adaptable and close to the market. One answer is the creation of distributed organizations.
Distributed organizations arise in three cases:
business expands geographically due to the opening of regional branches. In some areas (sale of goods, insurance services, warranty support) territorial expansion is necessary;
the activities use remote structural units, for example, remote warehouses, production sites;
Employees from other cities, regions, even countries are employed.
The general economics of such organizations has been understood and used by many for quite some time. But until today, this development has been held back. There was not enough IT solution that would allow to manage such an organization effectively.
What does a distributed organization need to work effectively? Creating a unified working and information space. Such information solution was developed and successfully implemented in the projects of the company "
Simple Business
". This is a software package that includes all the functions of business process automation systems, which allows you to build a business network of an organization and provide business management.
')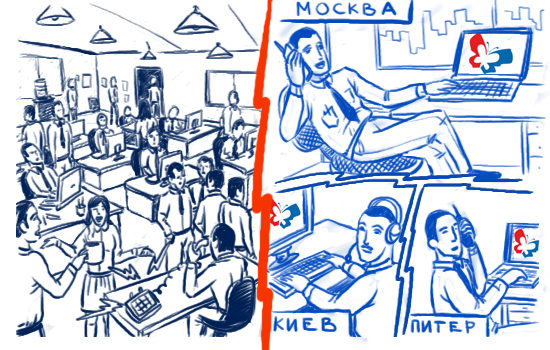 Thanks to the implementation of a functional business network for our projects, we received seven advantages of a distributed organization over the traditional closed office system.
1. Freedom from geography. You can hire a talented employee for a lower fee from another city and even country. It is enough to register it in the business network, and he becomes a full participant in the workflow. In a virtual environment, you can assign tasks to him, control him just as if he were an employee of your office.
You can also open representative offices and branches in other regions, expanding your business. Remote sales managers will allow even a small company to seize new territories. Warehouse, production facilities can also be moved to a more convenient place, choosing it for economic reasons (proximity to customers, workforce, low rental cost). Wherever they are geographically located, thanks to the business network, they are in a single space with the main office and other divisions.
2. Hiring remote workers, the company receives substantial savings in renting office space and creating conditions for work. The very purpose of the office can be reduced to the workplace manager and representative functions. And this does not need a large area. The amount of consumed paper and stationery will decrease. The office really becomes electronic.
3. A business network allows you to build effective information flows. Employees, managers can quickly share information: files, comments, decisions, instructions. A newcomer gets valuable experience from another employee, or simply can view a work instruction that is available to the public. Our "Simple Business" system allows you to do more. For example, collectively working on the same document: the manager and employees in different cities can sit down and work together on an agreement, instruction or commercial proposal.
4. By including suppliers, partners, customers into a single workspace, you can establish a more coherent, operational work. In essence, business turns into personal gain from joint actions, and the effectiveness of these actions is ensured by a single information space, because there is no closed office with customers, suppliers, partners somewhere outside the walls.
The growing number of organizations in a single business network can create a virtual market space. Already within this space, companies will look for customers, suppliers and partners, and expand their activities.
5. The work of employees becomes transparent. All information is displayed in the virtual business network and stored in it. The head can at any time see the problem, prompt, direct. This is faster than looking in e-mail, requiring the forwarding of copies, archives, and specifying original sources from several employees. If you use internal telephony with the ability to record a conversation (as in "Simple Business"), you can evaluate the negotiations, analyze the information, check whether there are conversations with customers in accordance with company standards.
6. Conducting meetings is a routine procedure in business. In a virtual business network using modern built-in communications, everything is solved simply through video conferencing. In addition, the "materials" of the meetings are saved, you can once again listen to and evaluate all the proposals, analyze them and sketch new ideas. All participants can discuss issues quickly enough.
7. One of the important management functions is control. Standing over the heads of employees and controlling is not the best pastime for a manager. Virtual business network, thanks to the transparency and history of actions, allows a manager to see almost everything. You cannot fool a virtual network, you cannot tell that you were busy with a lot of things and did not have time to call an important client or clarify the terms of cooperation. This is especially important when the company works in business, where it is necessary to adhere to the deadlines for the work.
Thus, a manager can not only control, but also increase the motivation of employees, using rewards and punishments specifically for the results of a particular employee's work.
Perhaps someone will say that virtual space is bad, and people are not robots and computers. But we are talking about work and business. And if development is closely related to the Internet, social networks, and information technology, then business systems are hardly to stand aside and be limited to geography and office walls.